We can deliver and help position your shipping container for maximum ease of use.
20 ft Container Delivery
Are delivered on a tilt tray truck and are loaded to suit your circumstances.
Doors to Cab
A container is loaded with its doors facing the cabin or front of the truck, in these circumstances when the container slides from the tray of the truck the container doors will land on the ground last and will face the direction that the truck drives away.
Doors to Rear
Loaded this way, the doors land on the ground first, with this method most commonly used when the container is placed near a building for access or loading purposes.
40 ft Container Delivery
Are delivered on a side-loader semi-trailer. As the name suggests, this machine loads and unloads from the side using big hydraulic arms at either end of the trailer. All loading and unloading takes place on the driver's side of the truck.
Doors to Cab and Doors to Rear
Similar options apply as for a 20 ft container (e.g. doors to front or rear), however consideration must be given to access for a semi-trailer. Additional consideration should be given to clearance from power lines and other overhead wires for the large swing arms.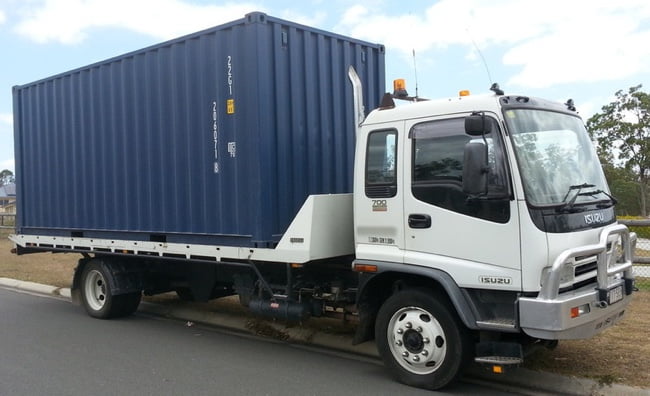 Positioning & Siting of Containers.
We recommend that containers be sited on a hard stand where possible, particularly if it is a long term placement. Where the ground is soft and damp or prone to moisture gathering, we recommend keeping the container off the ground to allow air flow. Most containers have treated wooden floors that when conditions are conducive, can allow moisture to permeate.
It is suggested container be placed on treated pine sleepers (or similar), old car tyres or on solid concrete blocks to alleviate potential moisture issues . It is recommended that you not use either house bricks or concrete (besser type) bricks under containers. It is also advised that you not use steel, such as RHS or I-Beams, under the containers because of the risk of slippage.
It is also important to level the container, particularly opposite corners, as a twisted frame makes the doors difficult to open and close. Ask our experienced delivery drivers to check the doors open and close easily.
Consideration should be given by the hirer/buyer to the site conditions and placement on any more than a mild slope is not recommended.